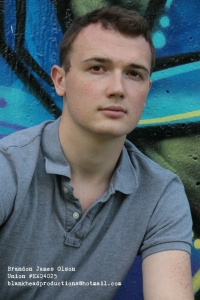 Brandon Olson
Qualifications
Born and raised in Kelowna BC, Brandon Olson has worked in front and behind the camera of the BC Film Industry for twenty years.
Working as a principal actor, A member of UBCP Extras for Stand In work and a DGC Permittee for Background coordination work, Brandon has expanded his work into many aspects of productions.
Brandon has also worked closely with Principal and Extras Casting Directors as an assistant for productions shot in the Okanagan area.
Though based out of the Okanagan, Brandon has accommodations in Nanaimo that makes him an experienced ideal pick for a multitude of positions on and off set.
Union Affiliations
UBCP Extras Member 04025 - Stand In DGC Permittee - Background Coordinator
Mid-Island Local
I'm willing to work as a Mid-Island Local
Contact Info
933 Nassau Crescent
Kelowna/Nanaimo, BC V1Y 4T2
brandon.james.olson88@gmail.com

250-575-1494