News
Films for the Forest
November 29 2017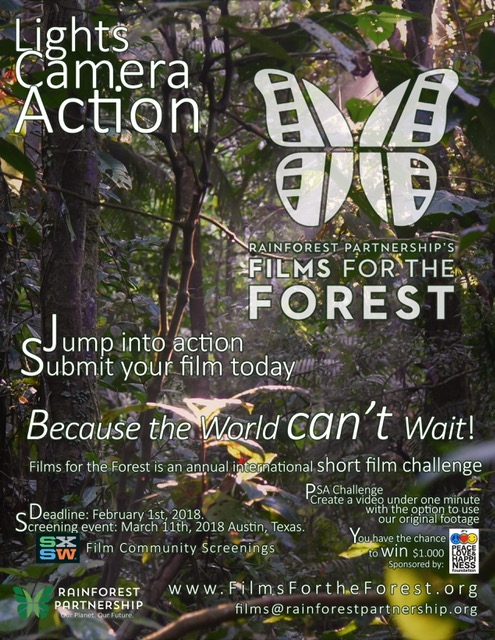 Our forests are threatened, and our climate is changing faster than ever. We challenge filmmakers to inform and inspire us to take action now, to preserve and restore the world's forests for the health of our planet.
Films for the Forest (F3), an annual international short film challenge created by Rainforest Partnership, was launched in 2010 with the goal to bring together youth and adult filmmakers alike to contribute to rain forest conservation through the arts and foster broader civic engagement. Since 2012, Films for the Forest has taken place in collaboration with SXSW.
Our goal is to create awareness about the importance of tropical rainforests and the ongoing threats faced by forests and their communities, through the powerful medium of film.
Winners will have their films screened at Films for the Forest, as part of the 2018 SXSW community screenings! Additional screenings will follow across the globe.
Now is the time to make a submission for the 2018 Films for the Forest! You can submit in any of the following categories:
1. Short (<20 minutes)
2. Short Short (<4 minutes)
3. Public Service Announcement (<1 minute)
4. Youth Film (Any of the above categories)
You can make your submission and learn more about the challenge here.
The submission deadline is February 1st, 2018, so please mark your calendars!
We look forward to your submission!