News
HORNBY ISLAND FILM FESTIVAL - MARCH 23rd - 25th, 2018
March 02 2018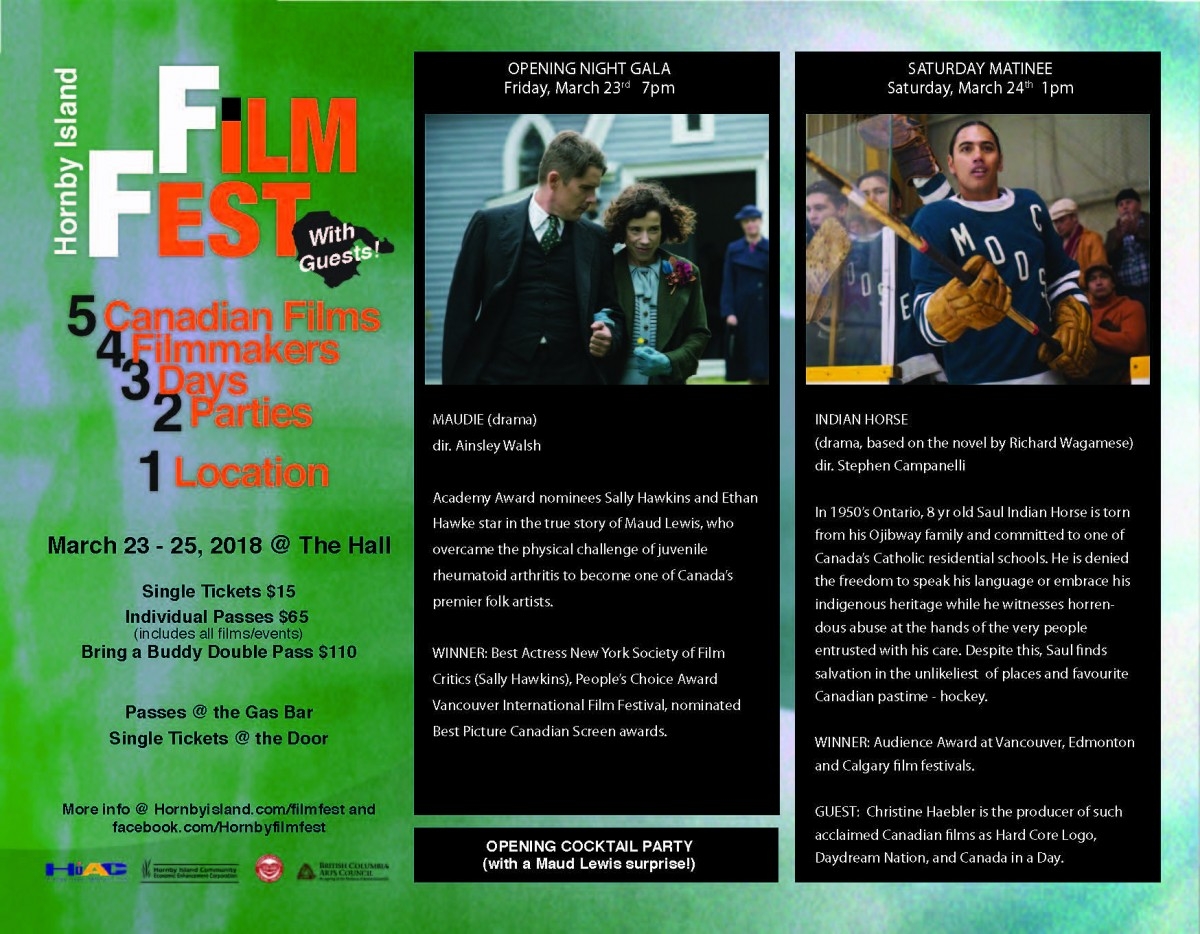 The new springtime Hornby Island Film Festival (March 23 - 25, 2018) proudly presents its all-Canadian lineup of award winning films and filmmakers from across the country. Films include a multiple audience award-winner, the most recent opening night film from the Vancouver film festival, the "other" Sally Hawkins multi-nominated performance, an international animation phenom and a Canadian documentary legend: All coinciding with the spring time herring run and taking place on the incredible island that is Hornby.
The impressive film line-up includes Maudie (directed by Aisling Walsh), the international hit about Nova Scotia folk painter Maud Lewis, starring Sally Hawkins and Ethan Hawke, Indian Horse (directed by Stephen Campanelli), based on the Richard Wagamese novel and winner of four audience awards at festivals across Canada, Meditation Park (directed by Mina Shum), starring Sandra Oh and the opening night film of the 2017 Vancouver Film Festival, Window Horses (directed by Ann Marie Fleming), a beautiful animated feature also featuring the voice of Sandra Oh, and closing film Konelīne: Our Land Beautiful, the latest film from noted documentary director Nettie Wild, set amongst the wild forces of change in northwestern B.C. "The Hornby Island Arts Council is proud to team up with one of our residents, Canadian filmmaker Scott Smith, to bring five award-winning Canadian films and filmmakers to Hornby Island for a spring weekend film festival. Our island is preparing to roll out the red carpet for some of Canada's most accomplished filmmakers, bringing five of this year's most popular and acclaimed films at the Toronto and Vancouver film festivals to our own community," says Andrew Mark from The Hornby Island Arts Council.
From Festival Chair Scott Smith - "Hornby Island has always been a great place to bring artists - for it's natural splendour and it's art-loving community. I'm really excited to bring together some films and filmmakers that I love to the island and community that I love. It's a rare opportunity to mingle with a group of filmmakers in a setting much different than the large festivals. This year has also been a particularly significant one for female directors in Canada, and we're excited to reflect that."
Attending the festival to represent and discuss their work: Nettie Wild, director of Koneline, Ann Marie Fleming, director of Window Horses, Stephen Hegyes, producer of Meditation Park, Christine Haebler, producer of Indian Horse, and Mary Young Leckie, producer of Maudie. The festival also aims to screen some short works from West Coast-based and local filmmakers, to be announced shortly.
Hornby Island, lies off the east coast of Vancouver Island near Courtenay/Comox, just over 100 km northwest of Vancouver, and is a beautiful place to visit year-round. Two-thirds of the island is protected and numerous trails criss-cross its incredible geographic diversity. It features stunning beaches, the famous cliffs at Helliwell Provincial Park and the trails of Mount Geoffrey. In late March, the herring spawn is usually underway, a spectacular feast for the eyes that brings with it an abundance of sea lions, bald-eagles and many other birds and mammals. If you have never visited Hornby Island, this is the perfect opportunity to come, see some films and to wander its shores.
Tickets available online via https://hornbyarts.tickit.ca or via our Facebook page fb.me/hornbyfilmfest or by calling Hornby Island Arts Council (contact info below)
Locally and in person, tickets can be purchased at the door, with both single and double passes available for advance purchase at the island Gas Bar.
For available accommodations, visit hornbyisland.com
Media Contacts: Scott Smith @ hornbyislandfilmfest@gmail.com or The
Hornby Island Arts Council at 250-335-2070 or
hornbyislandartscouncil@gmail.com.