News
Micro-credential Motion Picture Training Supports Employment and Crew Diversity Development in BC
March 07 2023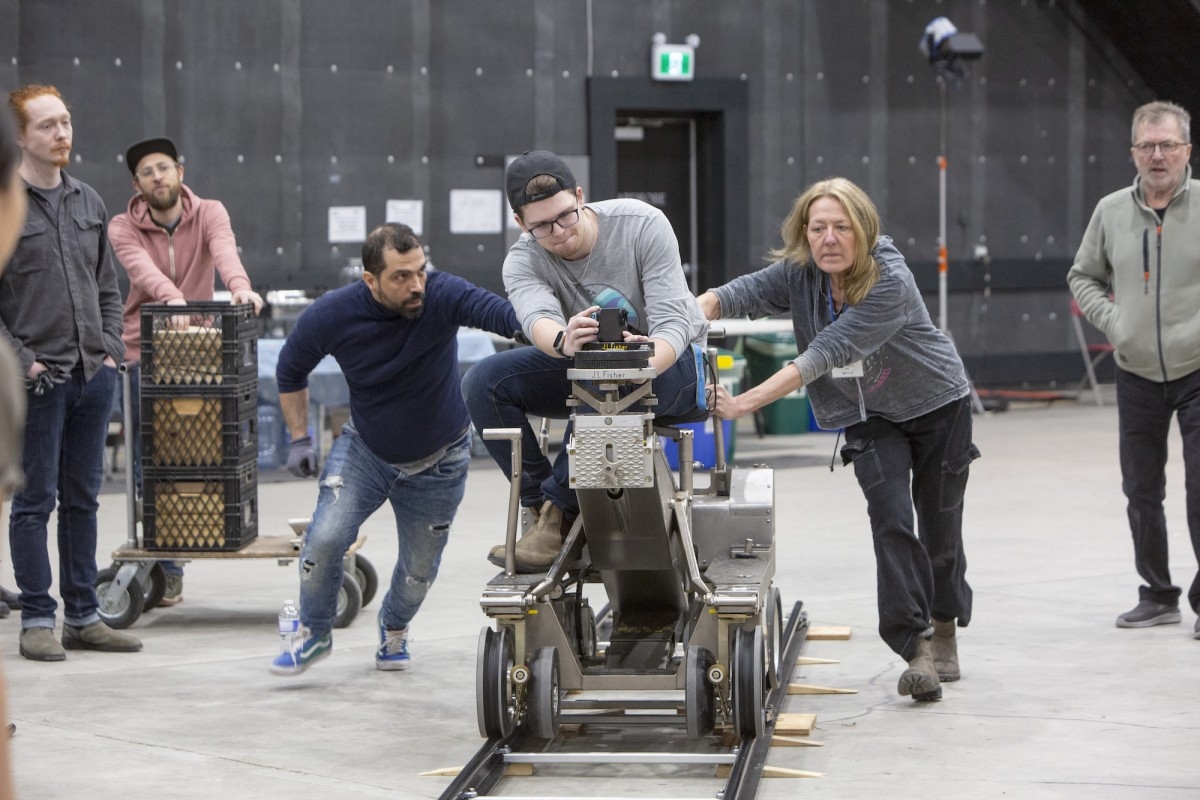 March 7, 2023 (Vancouver, BC): Vancouver Island North Film Commission (INFilm) and North Island College (NIC), with funding provided by the Province of BC's Community Workforce Response Grant, Warner Bros. Discovery Access Canada Sponsorship Program and REEL CANADA, the Reel Opportunities Program have launched a series of specialized diversity and youth training programs targeted to British Columbians under-employed and under-represented seeking employment in the province's rapidly growing motion picture industry. Funded by dedicated government and industry supports, the blended training model, whose applied practical in-person portion takes place at Martini Film Studios (MFS) in Langley, plays a key role in meeting labour demand while promoting equity, diversity and inclusion.
In 2022 following up on the successful 2021 partnership that delivered the pilot programs, INFilm and North Island College received 2022 funding through the provincial government's Community Workforce Response Grant (CWRG program) to continue to develop micro-credential practical trades related training programs with a focus on diversity and under-represented community members in BC.
Further funding from Warner Bros. Discovery Access Canada and REEL CANADA enabled the delivery of an entry level youth production assistant program 80 percent virtual with a week of applied practical bootcamp. The initiative falls under the government's micro-credential training program, which fast tracks British Columbians to gain education and skills required for high demand jobs.
In 2023 INFilm and North Island College have once again collaborated with Martini Film Studios to host in-person practical training in the company's Langley studios. This round of 12 week courses were offered from December 5, 2022 through to March 3, 2023, and targeted students skills in lighting, which involves assisting, developing and safely executing lighting schemes on-set; grip, which provides camera and equipment support; set construction, which involves de-sign, assembly, repair and build of props and sets; set dresser, which provides planning, coordinating, assembling, maintaining, and dismantling the décor for each scene; and location production assistant, which provides industry certificates, knowledge, and soft skills needed to successfully enter into BC's booming Motion Picture Industry.
BC is Canada's largest, and North America's third largest, film production centre, with the creative industries contributing $4.84 billion to the economy. The province's 60,000+ film workers and are in high demand, resulting in competitive wages and sustainable employment. Investing in a local workforce through skills training is critical for BC to maintain its competitive advantage, while also supporting inclusion of visible minorities, youth, women and Indigenous peoples.
Quotes:
Andrew Mercier, Minister Of State For Workforce Development "B.C.'s film industry is growing and full of opportunity for exciting, in-demand jobs. These train-ing programs will allow for more British Columbians to get the skills they need to pursue reward-ing careers in B.C.'s motion picture industry, while helping employers access a locally trained and skilled workforce."
Lana Popham, Minister, Tourism Arts Culture and Sport "British Columbia is proud to be the third largest motion picture production centre in North Amer-ica", said Lana Popham, Minister of Tourism, Arts, Culture and Sport. "The micro-credential mo-tion picture training program promotes the development of strong diverse skills for the future workforce, so they can continue to showcase our beautiful province and tell their amazing sto-ries to the world. Best wishes to the graduates, we are excited to see what you do next.
Erika Kumar, Warner Bros. Discovery Access Canada, Director "Warner Bros. Discovery Access Canada is dedicated to creating meaningful opportunities for underrepresented talent. Strengthening the skills and diversity of the motion picture industry is our priority. We are proud to support Vancouver Island North Film Commission and North Island College's career building below-the-line training programs."
Jack Blum, REEL CANADA "Workforce development for the Canadian film industry is a national issue. The Reel Opportuni-ties program aims to address that with informational workshops and hands-on pop-up film schools across the country. The model that Vancouver Island North Film Commission and North Island College have put together here with so many strong industry partners is exemplary and one that REEL CANADA will look to replicate for these training sessions in every production centre in Canada."
Gemma Martini, CEO, Martini Studios, Chair, Motion Picture Production Industry Assn. of BC "Micro credential skills training specific to motion picture production is such an efficient means of opening up career pathways into this unique industry. We're especially pleased to support opportunities that build equitable access to BC's workforce for underrepresented, diverse students wishing to pursue industry careers. Martini Film Studios is a proud participant in this forward looking program, powered by the kind of collaboration behind the BC industry's success."
Lisa Domae, President & CEO, North Island College North Island College is proud to provide education and film training for students from across Vancouver Island and BC. Since the beginning of the pandemic, more than 365 NIC students have prepared to enter careers in BC's film industry right here, in Langley. I thank the provincial government and INFilm for their ongoing support and expertise as we all work together to sup-port students on their paths to success.
Cheryl O'Connell, Dean Faculty of Trades and Technical programs, North Island College "The success of the innovative motion picture micro-credential programming is a result of years of dedication and collaboration between Vancouver Island North Film Commission, industry sub-ject matter experts and the Faculty of Trades and Technical programs of North Island College. Ongoing Government investment ensured this programming could come to fruition. This initia-tive is an outstanding example of progressive development possible through the selfless com-mitment of leaders who have united to achieve a common goal of formalizing responsive skills training aligned with labour market needs and provincial economic diversification."
Joan Miller, Vancouver Island North Film Commission, Executive Director "Developing and delivering accessible motion picture skills training marks the culmination of years of hard work by all involved. This round of training is focused on equity, diversity and in-clusion which is key to the development of a skilled and diverse motion picture crew-base in BC. We are proud to have partnered with North Island College and Martin Film Studios to step up and meet this call for action."