News
Star-struck in Qualicum: film crews transform mid-Island into Qualiwood
July 31 2017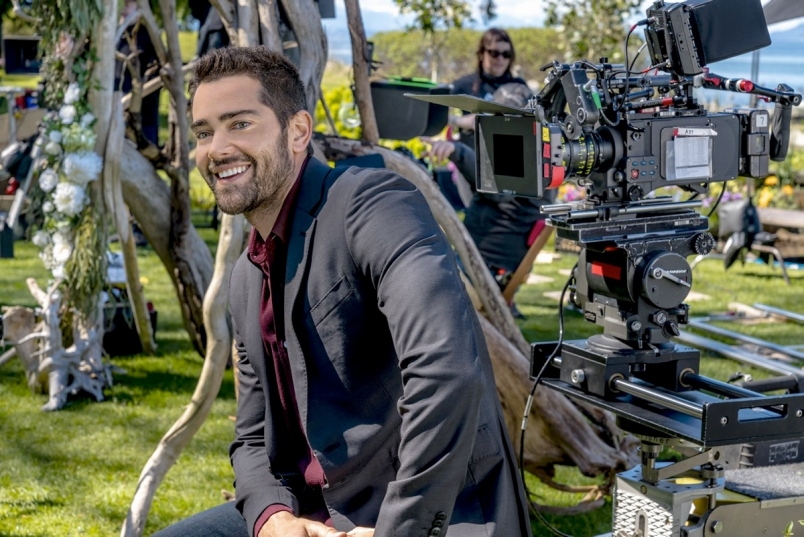 When the producers of Hallmark Channel's TV series Chesapeake Shores were looking for seaside locations last year, they chose the Oceanside area between Nanaimo and Qualicum Beach to stand in for the show's U.S. locales. This year, they returned to shoot Season 2, capturing the Island's natural beauty as a backdrop.
It's a busy, gloriously sunny July afternoon in this summertime hotspot.
Etched against a blue sky, a sign outside the Sea Edge Motel — a few blocks from where the Canadian Open Sandsculpting Competition and Exhibition is underway — says it all: Summer Memories are Made Here.
For thousands of locals and visitors to Oceanside, a group of communities that includes Nanaimo, Parksville, Qualicum Beach and Nanoose Bay, those memories for the past two summers have included something new: filming of Hallmark Channel's series Chesapeake Shores.
The cast is headlined by Victoria's Meghan Ory, who plays Abby O'Brien, a divorced New York career woman and mother of two who returns to her hometown. The actors became familiar faces here last summer when Season 1was filmed. They returned four months ago to start shooting 10 episodes for Season 2, which premières Sunday, Aug. 6 at 9 p.m. on the Hallmark Channel in the U.S.
Described by Vancouver-based producer Matt Drake as Hallmark Channel's most-watched series, the multi-generational drama based on the Sherryl Woods novels has a large cast. Ory's co-stars include Treat Williams as Abby's father, Mick; Jesse Metcalfe as Trace, her high-school sweetheart; Diane Ladd as Nell, her grandmother; and Barbara Niven as
Abby's estranged mother, who suddenly resurfaces.
Abby's siblings are played by Laci J. Mailey, as Jess, the free-spirited bed-and-breakfast operator; and Emilie Ullerup as Bree, a playwright who buys a local bookstore.
The supporting cast features Brendan Penny as Kevin, a soldier readjusting to civilian life; Ali Liebert as Georgia, his fiancée; and Andrew Francis as Connor, a young lawyer.
"I've quickly learned how busy Parksville and Qualicum Beach can get in the summer," says Drake, who is grateful that Parksville Beach Festival organizers agreed to share their parking lot this busy day.
Despite the inconvenience, event manager Wendy Sears isn't complaining, noting that Chesapeake Shores became a festival sponsor this year.
"We're happy to have them involved," says Sears. "I guess it puts us on the map, doesn't it?"
Everyone, it seems, has a Chesapeake Shores yarn to share — including Erin Plank, 16, a barista at He Brews Coffee Shop in Qualicum Beach, a popular spot for crews seeking their java fix.
"I got to meet Jesse and Meghan," says Plank.
She says the store's manager has become friends with Metcalfe, the John Tucker Must Die heartthrob seen around town signing autographs for fans.
"He bonded with Jesse over their passion for motorbikes," says Plank.
While Mulberry Books, which has its own Chesapeake Shores books section, wasn't used for filming, it has attracted cast and crew, says staffer Leigh Buchanan. The former Qualicum Chamber of Commerce nearby posed as Sally's coffee shop for the show.
"The filming has created kind of a buzz. It adds another layer of art and culture to the town," says Buchanan.
Set decorator Johanne Hubert created the show's bookstore in a former clothing store, complete with rows of vintage typewriters.
While some Qualicum shoppers have complained about losing parking spots during filming, merchants say reaction has been predominantly positive.
"There's always going to be a naysayer, but this is a recreational summer resort, so you're not going to find parking anyway, so it's kind of a moot point," says Oura Giakoumakis, owner of Thalassa Restaurant at the Qualicum Beach Golf Course and past chair of the Qualicum Beach Chamber of Commerce.
"It's been great for the community and it's brought a younger demographic here. They live, eat, play and support local businesses. It's been a $5-million investment in the community so far in terms of rentals, accommodation, shopping, and they have Sally's on a retainer, so the intrigue is there even when they're not here."
A loyalty program has been implemented so participating merchants can track revenues from crews who are offered discounts.
Writer and associate producer Kirsten Hansen says the producers have attempted to use local signs, as when Paradise Mini Golf essentially played itself during filming in Parksville last year.
"The setting of this beautiful, idyllic small town on the shores is such a huge part of what this series is about. It's a character of its own," says Hansen, gazing at the Englishman River estuary, which doubles as "the O'Brien lands." Director Andy Mikita is about to start filming a scene in which Treat Williams's character talks fishing and negotiates a
business deal with guest star Gregory Harrison (One Tree Hill).
Victoria-based art director Laurin Kelsey says she can understand why such productions can have a mixed impact.
"People who aren't in the film industry think we look disorganized and quite crazy. We drop in, run away and fill large parking lots," says Kelsey, whose highlights include working on an Art Walk sequence.
She worked with Hubert, who selected local artists and vendors to showcase their works in the three-day sequence shot in early July on Parksville's boardwalk.
"The towns of Parksville and Qualicum have gone above and beyond to accommodate us," says Nanaimo-based extras casting director Jacqui Kaese, recalling huge turnouts for her casting calls.
There was a more substantial requirement for background performers during Season 2, Kaese says — almost 1,000, compared to 600 last year.
"We have established locations that are pivotal to the story, so continuity performers are a foundation stone," she says. "We have regular faces you'd see working in a bank, office or a bar in a small resort town."
Dylan Nelson, 22, routinely drove up from Victoria to appear in episodes as a restaurant patron, server and then a bartender at a nightclub set in Nanaimo.
"Sometimes I wouldn't find out my call time until 11 the night before, so I didn't get much sleep," he says. "I'd get a call time for 6:30 a.m. and be leaving at 4:30 a.m."
Drake, who has been involved since the pilot was filmed in Steveston in October 2015, says the advantages of shooting in Oceanside have outweighed the challenges.
"The great thing was being able to step outside the chaos in Vancouver and say: 'We've got our own little community here and everything we need,' " he says.
They have been able to shoot Nanaimo for Nashville, Chicago and New York, for instance; Parksville for Baltimore, Philadelphia and parts of Chesapeake Shores; and Qualicum Beach as the town itself.
Locations used for filming include Bailey's in the Village, Qualicum Bakery, St. Anne's Church, Milner Gardens, Rathtrevor Beach and a vacation rental property in Nanoose depicting the O'Brien homestead.
"It's not an easy conversation to say to a business: 'Hey, we want to bring 100 people over here and shoot outside your store,' " says Drake, who teamed up with Daniel L. Paulson when the veteran executive producer took the project to Hallmark. "The first year, there was a lot of education between us and the community, and I think we've come a long
way on both sides."
Drake says he was struck by how respectful the community has been, even when the show's stars appeared on the boardwalk for the Art Walk sequence, signing autographs and posing for photos.
He credits Vancouver Island North Film Commission's Joan Miller and her staff for cementing their decision to shoot here, and helping to find local talent to supplement the unit's 100-person crew.
"We're also trying to hire locals, not just from a cost perspective," he says. "Sometimes you'll get faster access and information by knowing someone who knows somebody who has a brother."
If Chesapeake Shores returns for a third season, Drake says he hopes to be able to hire mid-Island crews, including graduates of a pilot project at North Island College that Miller has long pushed for.
"It's full speed ahead," says Miller, noting the curriculum for the training program for north-Island residents and First Nations includes an expanded course for locations production assistants.
Courses scheduled to start in September will conclude next spring, in time for producers to select crews as "local hires" for summer projects.
"The [Chesapeake Shores] construction department hit that goal this year, with the construction co-ordinator reaching out and finding mid-Islanders who were carpenters," Miller says.
Locations production assistant Jenna Michalchuk, 19, a Vancouver-based graduate of Capilano University's Motion Picture Arts program, has been staying with her mother in Nanaimo so she can do the show.
"I feel very fortunate," says Michalchuk, who aspires to some day work in the camera department after receiving further training.
"They prepare you a lot for being a PA in film school, but coming to set was nothing like I expected," she says. "I definitely think it's something you have to experience to know what it's like."
As a Canadian producer, Drake says he takes pride in hiring locally wherever possible, and providing economic benefits for local businesses.
Kate Sosnowsky, a server at Bread and Honey, recalls meeting Diane Ladd (Wild at Heart) and not realizing at first that her frequent customer was an Oscar nominee.
"I noticed her twang, so I thought she obviously wasn't from these parts," says Sosnowsky, noting Ladd loved the restaurant's oatmeal, showed staff photos of her dogs and spoke about how she missed them.
"I thought she was just a normal person until I went home and Googled her. I'm not a big TV-watcher. We just treat everyone who comes in here like they're our family."
After working 15-hour days, some crews came to appreciate Parksville's Suds and Duds' "four-minute laundry" service, where they could drop off their laundry and pick it up a few hours later.
"We're seeing people coming in from that, saying they're working on the show, and some of our people are saying they've come to Parksville to watch the show," says staffer Darlene Ashby.
The Chesapeake Shores shoot has boosted sales of "Qualiwood" T-shirts produced by husband-and-wife Chris and Kristin Moon's Coombs-based The Other Side Studio.
"When I was in high school, we used to call this place Qualihood, because it's a small town with the highest amount of rich people in Canada, and just kind of funny," said Kristin.
© Copyright Times Colonist